NJ Boys Soccer Team Soaring High
New Jerusalem Children's Home Boy's Soccer Team is soaring high and is sure to deliver an exciting performance during the 2015 soccer league season.

On the 21st of February the U-15 team played a friendly match against neighboring soccer team 'Super Gauteng' at Rabie Ridge Stadium to which the New Jerusalem Boys emerged victorious boasting of a 3-1 score line. The boys have been putting a lot of work into their preparations and are elated that it is starting to pay off as indicated by a statement from man of the match Jermaine Masemola, who said 'he was so happy to achieve this victory with his brothers as it helps give them confidence'.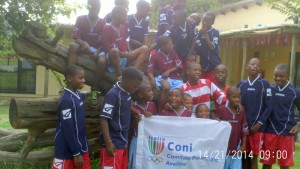 As an organisation, sports development is a fundamental area in which we provide service delivery to our children. Furthermore, New Jerusalem provides sports development and participation to the communities at large by organizing and hosting tournaments calling for public participation.
We are so proud to watch our kids exercise their sporting talents and build their confidence. We hope that all interested parties take time out to come watch the games and support the team in whatever way.
Where you can HELP
At the moment the team is short on soccer equipment making it more difficult for them to compete but with your help this can become a thing of the past.
The Items Highly Needed Are:
Soccer Boots
Shin Guards
Socks
Jerseys
Kit Bags
We would really appreciate any help in making the attainment of these items possible.
For any inquiries contact Patrick at Pro@newjerusalemchildrenshome.org
Thank You and God Bless.