Plascon charity house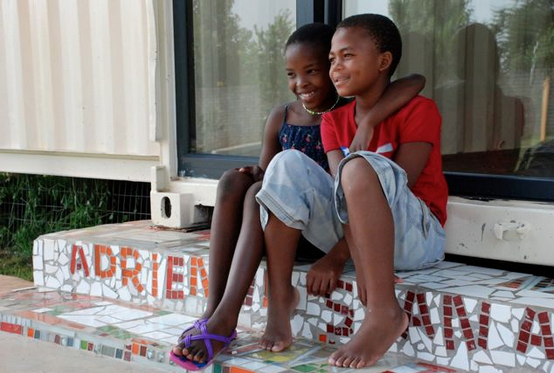 It's great to see design with a purpose, and even more so when that purpose is helping the needy. The New Jerusalem Children's Home has recently opened an Eco-House in Midrand, which will serve as a safe haven for orphaned and vulnerable children around Gauteng.
The charity  was founded in 2000 by Advocate Anna Mojapelo, a prominent businesswoman and reputable community developer, together with her sister Phina Mojapelo, a social worker who has years of experience working with children.
New Jerusalem currently takes care of 80 children up to 16 years old, many of whom are fighting HIV/Aids. The environmentally friendly new Eco House will accommodate 30 of these 80 children. We absolutely love the industrial chic look of the house, which was constructed using 28 recycled shipping containers, and other recycled materials. 'Not only is the house eco-friendly, but it is aesthetically exciting and extremely comfortable to live in,' says New Jerusalem's Adrienne Feldner.
Plascon donated the paint for the project, making the home visually and emotionally more appealing to the children. 'The children are both inspired by the bright orange and purple accent colours and calmed by the natural, earthy shades in the house,' says Adrienne. 'Indeed, their reaction to the colours is a good reflection of the incredible transformation that has occurred in these children since moving into the house. Almost immediately, their self-esteem increased, they became calm, co-operative and interactive and seem to now exude an optimism they never seemed to have before.'
Says Patrick Seager, CSI Manager for Plascon; 'We are always looking for the opportunity to spread colour into the lives of disadvantaged children. This project was an easy choice for its obvious support of both children and the environment – we are proud to have been able to contribute towards it.'
For more information visit plascon.co.za.